Association Recommended Products
Books Swimming equipment Swimming study contents for people with disabilities.
How to Teach Swimming to Children with Developmental Concerns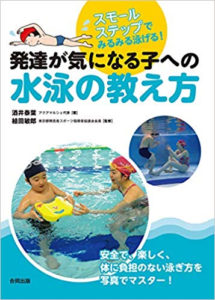 In 2017, we produced a booklet, Happy Swimming, which was featured in the Asahi Shimbun newspaper.
This article led us to be approached by Godo Publishing, a publisher of many books on supporting children with developmental disabilities, who said, "We would love to have your book on swimming for children with developmental disabilities.
This is just a small part of the methods we use in our daily activities with the help of the students at Aqua Marche, but the content is all in color and includes plenty of photos so that anyone can easily put them into practice.
Looking back, I have been involved in swimming for the disabled for more than 10 years since I was a university student and have developed various activities.
The content of the book is highly individualized, and I often had to rewrite it over and over again, wondering how to make it easier to understand.
Even though it's highly individualized, I can't leave out this part (a practice that most kids do)!" The book is like a four-frame comic strip, and is easy to read.。
Happy Swimming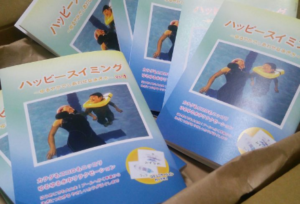 Using a person with cerebral palsy as a model, we teach you how to enter the pool, walk in the water, and float in a gentle and thorough manner. This book can be used for beginners who want to make their debut in the pool, for people with physical disabilities, or as an introduction to rehabilitation swimming!
We hope that as many children as possible will be able to enjoy swimming and that we will be able to reach those who need it. We hope that this book will be useful to everyone, and we would be very happy if you could pick up a copy.
What's inside?
In the first chapter, we introduce how to touch the water gently directly from our representative, Mr. Sakai, as a healthy model.
In Chapter 2, a child with pediatric cerebral palsy serves as a model and provides underwater relaxation up to walking in the water. There are two ways to practice with two people and one way to practice alone, so you can start with the one that suits you best. You can also see the movements of the swimmer and the support person (called the "support person" in the book) with the underwater camera.
Chapter 3 shows you how to use a wheelchair in the pool and how to make simple and easy neck pillows and floats used in relaxation.
An appendix at the end of the book includes a "Communication Card" and a "Checklist for Going to the Pool" that can be used at the pool by covering it with a laminated sheet. These are actually used at Aqua Marche and other swimming schools that Sakai is involved with. It is A5 size, 62 pages, all in color, and fits in a woman's bag.
Sales site: BASE (a different site will open)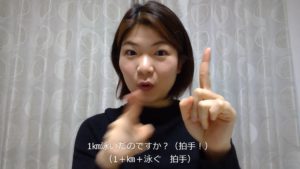 (Page will open in a new window.)
Do you sign the words you use in your swimming lessons? In this course, you will learn expressions that can be used tomorrow in a short, intensive, online course for those who are instructors at "swimming schools and pool facilities" and those who are the club receptionists.
In fact, many of the words used in swimming are not found in textbooks or sign language vocabulary books, and even for the hearing impaired, "I've never seen that sign before, what is it?" There are many sign language expressions.
Furthermore, due to the nature of the sport of swimming, even in non-diving (non-swimming) programs such as aquabics, hearing aids must be removed, and even people with mild hearing loss who can hear with hearing aids on land will "hear nothing" or "hear only vaguely" in the pool. The result is that the
Of course, using a writing device to communicate is an important device, but in a group lesson, rather than using a writing device every time, the instructor can work with the hearing person just by using a little sign language.
We'll start with greetings, then fingerspelling, then swimming sign language, and even mastering how to communicate with deaf people without them having to know swimming-specific sign language!
Swimming equipment rental service (Subscription)
Sakai has long been interested in environmental issues and improving the welfare environment, and while continuing to be a swimmer, he has always had questions about "the challenges that other countries face regarding the water environment, even though it is a sport that uses a lot of water".
Sakai said, "Swimming is a sport that depends on the 'benefits of water,' and it is now commonplace to think about environmental and labor issues." Sakai said at the lecture.
The Association has partnered with an employment support office to manufacture "floats," which are necessary for disabled swimmers.
The shape can be changed to fit the individual's body, even for those with severe physical disabilities.
It is also commonly introduced for people with intellectual or developmental disabilities who have difficulty using a beat board or other equipment when practicing swimming.
First, we would like you to experience firsthand the ease of use and functionality of the rental.
Please contact us for more details.
Inside, our swimming gear is handmade by Japanese artisans using organic cotton fabric carefully and meticulously woven by hand to suit each student. Of course, we also have ready-made swimming equipment, which we use according to the needs of our students.
The beauty of organic cotton is that it feels warm in the water. The cushion is warmed by your own body heat and helps those who have physical disabilities with high muscle tension, feel discomfort in their body, or just want to relax. Even those who are afraid of water can experience the feeling of floating by themselves with the cushion that is safe and close to their body, and improve their swimming skills without fear.