For Corporations
The laws and systems surrounding disability welfare are changing drastically, such as the Convention on the Rights of Persons with Disabilities and Reasonable Accommodation.
It is becoming more and more commonplace to welcome people with disabilities to swimming schools and swimming lessons, and to have disabled swim instructors in the workplace.
It has become mandatory to employ people with disabilities if you have 50 or more employees, and we often hear things like "there is a child with a developmental disability in the gray zone" among the students in front of you.
On the other hand, even if Japan has established the law, schools and organizations that have not had "swimmers with disabilities" before may still have concerns about accepting them as customers or hiring them as employees.
The laws and individual systems involved will certainly be a force to be reckoned with in the coming years for swimming schools and athletic facilities.
Our association has been working in business partnership with major companies for more than 10 years, using our experience as welfare counselors and over 10 years of individual support for a total of more than 1,100 people annually.
We provide total support for companies, corporations, and organizations for swimming for people with disabilities.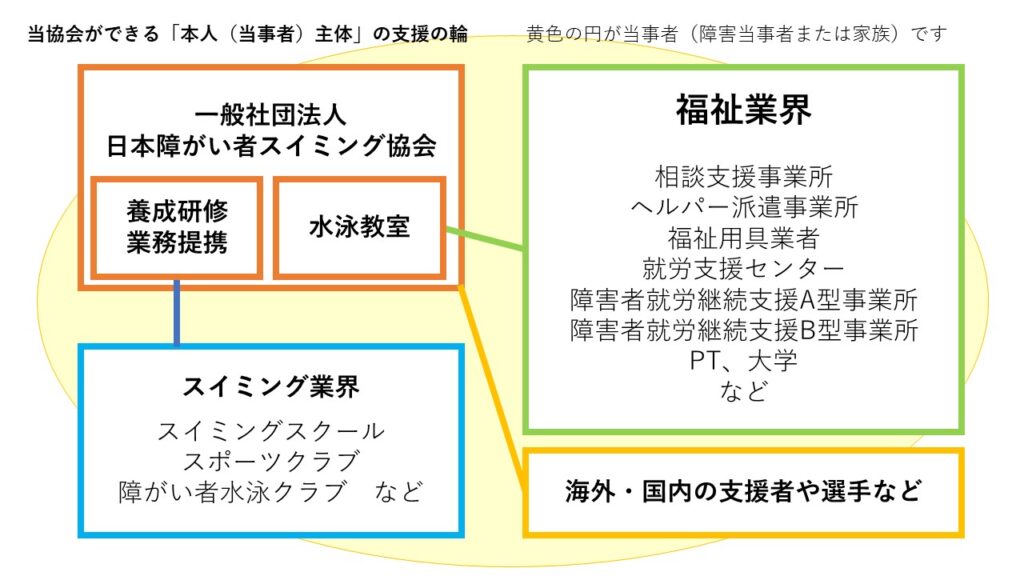 Corporate Support Business
1 Create a system to accept customers with disabilities by attending "Swimming Instructor Training for the Disabled".
Example: A major company's head office employee and a sports club site manager take the course from beginner to advanced level, and the current swimming curriculum (for able-bodied swimmers) is
2 Consulting business including reasonable accommodation for accepting people with disabilities as employees and swimming instructors (Go to Inquiry Form)
Example: I would like to accept two swim instructors with physical disabilities with the goal of retaining them.
 →Online consulting business and on-site guidance by Mr. Sakai directly to the sports club with the goal of establishing the sports club for one year.
Example: We are planning to accept a swim instructor with a developmental disability, but our staff does not know how to handle the situation.
 →We aim for retention and continuity through regular consulting services to create a work environment that is comfortable for both you and your staff.
3 Provide online content such as swimming sign language courses
4 Priority sales of MISHOP-recommended products necessary for disabled swimmers and consultation on welfare equipment by qualified staff
5 Business Alliance
 Example: Introduction or transfer of members who have practiced with our association to other clubs.
6 Consultation on development of swimming equipment, barrier-free facilities, etc.
7 Other individual consultations for companies and shops
Please contact us for more details.
Mail info★(★→@)jpasa.net